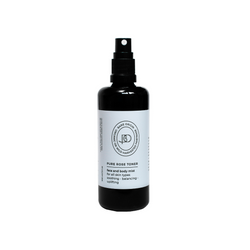 Bare Origin
Pure Rose Toner
A pure and nourishing toner distilled from the wild-harvested Moroccan rose.
Our Pure Rose Toner has a host of healing properties from soothing sunburned skin to reducing stress levels. Most importantly our toner provides hydration for all skin types and reduces any inflammation or irritation. The fragrant and cooling mist should be used after washing your face and body to restore the skin's natural radiance before applying day cream or oil.


Ingredients/INCI: rose flower (rosa damascena) hydrosol

100ml/3,4 oz 

Watch the story

Pure rose toner- den bästa!
Jag har provat mig igenom alla rosenvatten som finns och detta är helt klart det bästa. Lagom, god doft (inte lika stark/stickande som andra) och verkligen återfuktande som gör underverk för huden i kombination med bra oljor. Jag klarar mig inte utan denna produkt😃. Hittade den första gången i en butik i Sverige men tyvärr så finns den inte kvar där, så har svårt att hitta den och hoppas att produkten sprids till fler ställen.
Pure Rose Toner
The pure rose toner is soothing for my sensitive and somewhat dry skin. I put it on morning and night after cleansing and moisturizing. It's smells so good too - subtle sweet roses!
Superb
I came across this toner through my therapist when she used on my face during deep spiritual facial massage. When I smelt it, it straight away brought calm and my skin felt wonderful. I bought a bottle and I noticed a difference in my skin after a few days. My skins appearance is smoother, more toned and reduced blemishes. I absolutely love this product and to know it is totally organic using only the highest quality ingredients makes this my favourite skin food.