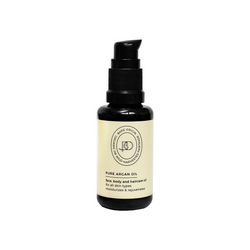 Bare Origin
Pure Argan Oil
A 100% pure cold-pressed argan oil made from unroasted, wild-harvested argan nuts. Nothing more, nothing less.
Our sustainably sourced argan oil is made by an incredible women's cooperative in Morocco who meticulously select and hand crack the finest argan nuts. They use a traditional extraction technique to produce our argan oil, which means nothing is added or taken away during production. Massage into your face, body and hair to increase skin-elasticity, reduce wrinkles/stretch marks, restore/hydrate and heal cuts and burns. It's so simple!
Ingredients: pure, cold-pressed, organic (argania spinosa) argan oil
Watch the story
A must-have!
This argan oil is a product I would use over and over again. It saved my face during the summer, visibly reduced lines and even improved my angular cheilitie treatment. An absolute dkin care must-have!
Best Argan Oil
My favorite argan oil, works better than any other's I've used. works great on my skin and as a conditioner for the ends of my hair. Well worth the money.
Very satisfied
I use this for my daily routine - morning and evening. It feels great on my skin and keeps it fresh throughout the day.
One drop!
I've been using an "argan" hair mask, and it works, but who knows how much real argan oil is in commercial products. I was enchanted by the story and video about the Bare Origin oil, it seemed one couldn't get any more "real" than this. It arrived in the US in about three weeks, not bad for the current state of international mail. I've found one drop on my fingers will smooth and moisturize my entire face! And my hands... And leave a bit to wipe through my hair. Of course a couple more drops is even better, I can still feel it on my face the next day. Also awesome for taming my extra-fine (Swedish) flyaway stray hairs. More to discover, I'm sure...
Great product!
I have used this argan oil for a few years now as my only moisturazer and my skin has never been this good! I have very sensitive combination skin and used to have eczema. It is also nice on dry hair ends.