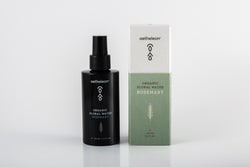 Produced with care in Greece by organic steam distillation of Rosmarinus Officinalis. Vegan Registered
PROPERTIES
Gentle antifungal, antimicrobial, antioxidant, anti-inflammatory, energizing, astringent, increases blood flow.
USAGE SUGGESTIONS
Hair nourishing spray, scalp treatment, skin toner, body mist, after sun spray, foot soak, linen spray, air freshener (home, car, sauna etc).
100% crafted by nature. Each harvest is unique, so there might be subtle, unavoidable differences in their characteristics from year to year.
Favorite Oils
I have tried EVERYTHING for my skin, especially my eczema. I tried these products 5 years ago and haven't looked elsewhere since. The rose argan oil, the rose hip oil and the rosemary toner are my favorite!
All products 5 stars!
I've loved every product I've tried from Bare Origins, the rose and rosemary toners, and many of the oils. Just absolutely divine quality. I order all the way from London, I love them so much!