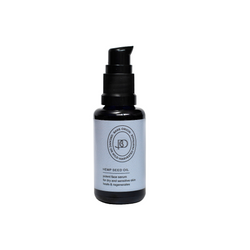 Strengthen your skin's natural protection barrier with the optimal ratio of omega 3 & 6 essential fatty acids. Regenerating and healing, the oil has been used traditionally to help damaged skin tissue heal faster.
Hemp oil is a healing herbal oil that can help adress dry skin with problems like eczema and psoriasis. The oil contains gamma-linolenic acid, antioxidant phytosterols, vitamins and Q10 which are regenerating and skin-building.

Due to its high proportion of polyunsaturated fatty acids, hemp oil is a light, "dry" oil, which makes it suitable for combination, oily and acne prone skin.
Hemp seed oil is a potent, nutritious oil with many applications!
It can also be taken as a dietary supplement: a tablespoon gives about 75% of the recommended daily need of omega 3.
This cold-pressed oil has a dark green color and a herbal scent.

Use morning and night by it self or under or over day and night cream.
Combine with argan oil for dry skin that needs fatter oils.
Massage face, neck and décolletage gently after cleansing

Ingredients: cold-pressed hemp (canabis sativa) seed oil
I have tried many serums and face oils. This one is truly one of my favorites! The scent is very herb like, love it!