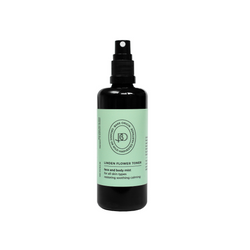 Bare Origin
Linden flower toner
The linden blossoms are fragrant, nectar-producing medicinal flowers. The flowers are used for herbal teas and tinctures popular in Europian and North American herbal practices.
The dried flowers are mildly sweet and sticky, and the fruit is somewhat sweet and mucilaginous.
Our linden mist comes from a small, sustainable family-owned business in Bulgaria. The flowers are picked from wild growing linden trees by local herbs collectors and are then distilled to produce the mist
Benefits
Active ingredients in the linden flower include flavonoids (which acts as antioxidants) and volatile oils. Linden flowers are used in herbalism for colds, cough, fever, infections, inflammation, high blood pressure, headache (particularly migraine), and as a diuretic (increases urine production), antispasmodic (reduces smooth muscle spasm along the digestive tract), and sedative.
Similarly applying the linden flower water topically helps the skin fight inflammation and infections. 
Use
Use the mist after washing your face and body to balance the PH level of your skin before applying your day cream or oil. 
Due to its anti-inflammatory properties, the mist is perfect to help soothe irritated skin. 
Ingredients/INCI: 
Distilled linden blossoms (tilia cordata)
100ml/3,4 oz
Amazing
This product smells amazing, feels so refreshing and nurturing for my skin and helps reduce inflammation. Love it!
Magical hydrosol
Incredibly wonderful product! The scent reminds me of standing next to a linden tree and looking at the beautiful flowers. I find this hydrosol is very magical!
Linden flower toner
Fantastisk produkt för ansiktet. Kan hända att jag duschar ansiktet alldeles för mycket för den ljuvliga doften. Jag älskar honungsdoften, speciellt nu när lönn blommorna blommar.
Lovely facemist
Hydration and instant herbal remedy for the skin 🙏🏻💗