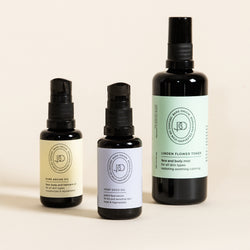 This calm trio addresses the needs of sensitive skin. Omega-rich hemp seed oil helps to soothe and calm the skin, while argan oil protects the skin from harmful environmental agents.
To use:
Blend two drops of each oil in your hand and apply on the skin with circular motions or pressing gently.
For added moisture apply after spraying your face with the linden toner and while your skin is still moist. 
Use morning or night, alone or with other hydators.

This trio includes:
100 ml linden flower toner + 30 ml pure argan oil + 30ml hemp seed oil
for ingredients list see individual product
I enjoy this calm trio a lot. A luxury and healing feeling for the face every morning!
Happy skin with Argan Oil, Raspberry Oil and Linden Toner
I love your products. I got the Roseship oil for christmas last year and have used it in my everyday routine. I have now purchased Argan Oil, Raspberry Oil and Linden Toner. These products are amazing and I have never had more balanced skin and glow in my life ( i have acne). There is nothing wrong with the quality of the product however the beautiful labels could have been glued more straight.