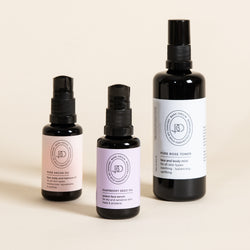 Stop stressing and start glowing.
Let this power trio help you out. Here is how: argan and rose oil restore elasticity, improve skin tone, soothe irritation and will neutralize free radicals that cause dull skin. Linoleic acid, alpha-Linolenic acid, vitamin E and carotenoids create an antioxidant and anti-inflammatory environment that protects and renews.
To use:
Blend two drops of each oil in your hand and apply on the skin with circular motions or pressing gently.
For added moisture apply after spraying your face with the pure rose toner and while your skin is still moist.
Use morning or night, alone or with other hydators.

This trio includes:
30 ml rose argan oil + 100 ml pure rose toner + 30 ml raspberry seed

for ingredients list see individual product
Some of my favorite things..
I love all of the products I have tried from Bare Origin Skin. I cannot say enough good things about them, and I'm so grateful that you ship to the United States! Thank you!
Älskar
Så härliga dofter!! Oljorna är fantastiska.
Amazing products
I love them all, and my skin is sooooo soft and happy:)
Really Delicate Products
I just wanted to say thank you for creating such lovely products. It's my second purchase.
The oils are soft, absorb immediately into your skin, and leaves your skin glowing.
Very happy with products
Beautiful oils and rose water, very happy with my products